Coping with Covid-19
Coping with Covid-19 and all the changes that have come with it hasn't been easy for anyone. We have all had to make certain changes and sacrifices that this horrible virus has placed upon us – from weddings that have had to be postponed, family celebrations and milestones that now are celebrated remotely, and yes, 2020 Graduation ceremonies that have either been put on hold or being creatively planned. We're doing our grocery shopping at 6:00 am and are wearing masks to protect not only ourselves but our neighbors and friends.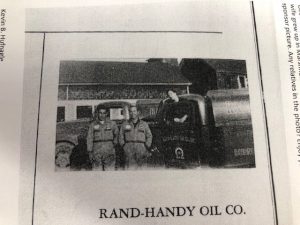 Contactless delivery has become the norm for all of us. Dining out seems like it was so long ago. But amongst all this, there are some good things too. Like you, we have some of the cleanest cabinets and have found some treasures that we have long forgotten about! One of our customers has sent us a picture of a Marshfield yearbook Rand-Handy advertisement from long ago. I wonder if anyone recognizes anyone from this picture (If you do, please let us know).
We've been spending a lot more time with family and our appreciation for those "heroes" who have tirelessly worked so that our lives can retain some sense of normalcy- our healthcare workers-how can we ever thank them enough?-restaurant workers and retail workers and grocery store workers have all had to adapt to a new way of servicing you. But they've succeeded and we're none the worse for it. We now, I think, truly understand what's important and what we can live without. (Although haircuts-well..'nuff said) But it's all working.
News and numbers are getting better. We may not be where we want to be yet, but we're getting there. We cannot replace the tragedy of those lost souls and loved ones but by keeping up what we've been doing, the social distancing, masks, and sanitizing, I have no doubt that we will arrive as better persons. Everyone, stay safe and take care!
IMPORTANT NOTICE TO OUR BUDGET CUSTOMERS:
Hard to believe, we know, but our budget season is coming to a close. This is the last regular budget billing of the season. Please be aware of your balance. You should remit your regular monthly payment due OR if you are sure that you will not be receiving another delivery this season, and your actual balance is less than your scheduled payment, you may elect to pay only the actual balance. Likewise, if there is a credit balance on your account and you're sure you're not getting another delivery, then no payment is necessary. Any credit balances will go towards reducing your budget payments for next season. Any balances remaining on your account be due in full prior to the start of the next budget season- August 1, 2020.
If you are currently not on a budget but wish to enroll for next season, we will be in contact during the month of July with your estimated payment. You can then contact us and we'll get you set up.
WHY OUR CUSTOMERS STICK WITH OIL HEAT…
PRICE– The price of Heating Oil and Natural Gas fluctuate all of the time. However, for most of the past 20 years, Oilheat has been less expensive. Plus the gas company adds on charges for delivery, usage, and several different "adjustments" that add to your monthly bill.
SAFETY– GAS IS EXPLOSIVE!! Oil is not. Utility gas home heating systems are the leading cause of death from carbon monoxide poisoning in the U.S.
ENVIRONMENTALLY FRIENDLY– Utility gas is mostly methane which is 20 times more harmful as a greenhouse gas than carbon dioxide. Plus oilheat systems are the only home heating equipment currently able to accept renewable fuels– BIOHEAT.
LOCALLY OWNED AND OPERATED– Your gas utility is a massive company with more than 3 million customers. Our company is family owned and operated. You will always talk with a real live person and can usually talk with the owner any day. Good luck reaching the CEO of your gas company.
SERVICE– Oilheat dealers offer full service around the clock. Oil deliveries, maintenance, installations … Service with your Utility Gas company usually means them telling you to call a plumber. Good luck with that in the middle of a cold winter night!
---
FOOD FOR THOUGHT…
"A BAD ATTITUDE IS LIKE A FLAT TIRE. YOU CAN'T GO ANYWHERE UNTIL YOU CHANGE IT."
---
June 21st – Happy Fathers Day
---
Congratulations Graduates!
---
Did you know…that you burn more calories eating celery than it contains (the more you eat the thinner you become)
---
A NOTE FROM OUR SERVICE DEPARTMENT:
Throughout the year, we ask our service technicians to note any problems, deficiencies, or recommendations for equipment improvements they feel would be of benefit to your heating system.
The ideal time to address these problems and recommendations is during the summer and prior to Labor Day. Not only are we better able to accommodate your schedule, but we can also have the technician that knows your system the best to perform the work for you.
If we have made note of any follow up work on your copy of a service invoice, please feel free to call us to discuss this. (781-834-8831) We have most likely tried to reach you about scheduling this work also. Thank you and we look forward to hearing from you.
---
OUTDOOR ALMANAC—LATE SPRING
June 6-8: Bugs appear
June 10-12: Field wildflowers in bloom
June 15: Fireflies appear in grassy areas
June 18-20: Watch for baby birds on lawns and shrubs
June 21: Summer Solstice– Longest day of the year
June 23-25: Gray tree frogs begin singing about this time
---
May's OIL DRAWING WINNERS
1st Prize: Mary J. — Marshfield
2nd Prize: Frank M. — Marshfield
3rd Prize: Lori R. — Duxbury
Please note that you can now enter the oil drawing online. Please complete the form at right to be entered in next month's drawing.
CONGRATULATIONS to OUR Winners!