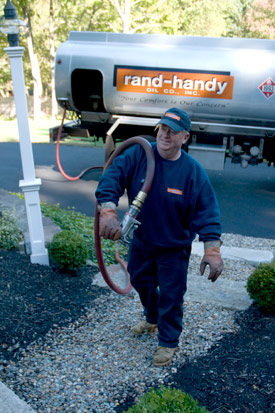 Proud to be a provider of home heating oil for South Shore Massachusetts residents since 1947.
To compliment our automatic delivery system and 24/hour service, Rand-Handy is able to handle all your other home comfort services. Whether it be forced hot water or warm air heating systems, electric to oil conversions, air conditioning, electronic and allergy cleaners, hot water makers, automatic thermostats, or hot water storage tanks, our engineering staff can design and install the equipment appropriate for your individual needs.
Rand-Handy Oil offers convenient payment plans for fuel oil deliveries, maintenance contracts and installations of all equipment. Various payment terms include our popular budget payments plans and cash discounts for those who pay their balances within 10 days.
We also service and stock equipment for ALL your heating and cooling needs.
Forced Hot Water and Warm Air Heating Systems
Electric to Oil and Steam Heat Conversions
Residential Air Conditioning
Hot Water Makers
Hot Water Storage Tanks
Automatic (clock) Thermostats
Our Commitment to Our Customers
At Rand-Handy Oil, we haven't forgotten how a small business should be run - with prompt, dependable service and genuine neighborly concern. We have earned a reputation of dependability and quality of service for home heating equipment. We work hard to assure the complete satisfaction of each and every customer. Every day and every night, our technicians are ready to serve you.
We make sure our technicians are kept abreast of the latest products and technology through regular service meetings and training sessions. Our office staff is one of the most knowledgeable and friendliest around.
Rand-Handy has been owned and operated by four consecutive generations. It is our goal to continue that tradition by being the best that we can be.