Where does our oil come from?
According to a recent study, the following numbers show in approximate percentages where the United States receives its oil. 34% comes from our own production capabilities. 13% comes from South and Central America, 11% from Canada, 11% from The Middle East, 9 % from West Africa, 8% from Mexico, and 13% from other areas of the world.
How can some companies I see advertising in the newspaper, sell for less than Rand-Handy?
The simple answer is that we are a full service company. We provide 24 hour emergency service to our customers with our own service technicians. You will be safe knowing that our Service Technicians have a full supply of parts in their vans, as well as the extensive inventory we have in our own shop. We are fully insured to cover you, the customer, as well as ourselves should the need arise. Rand-Handy also maintains a state of the art storage facility for your heating oil. You can be assured that we will always have a plentiful supply of heating oil for you and your family.
How do you know when I am due for an oil delivery?
The oil delivery system we use is based on Degree Days. A degree day is the average temperature of the day subtracted from 65. With this we assign specific consumption factors (K-factors) to you. These are based on your oil usage (just for heat, or for heat and hot water), the size of your home, and your living habits. With these 2 calculations, we can determine when you are due for your next delivery. This is what we mean when we say "Automatic Delivery". Using a system like this, it is very important for us to know any changes in your living conditions because these could affect your oil consumption. (i.e. You have a new baby and are keeping the heat higher and are using more hot water for baths; you installed an addition to your home and are now heating more area; you have changed jobs and are working out of the house now; you have an elderly parent living with you now…)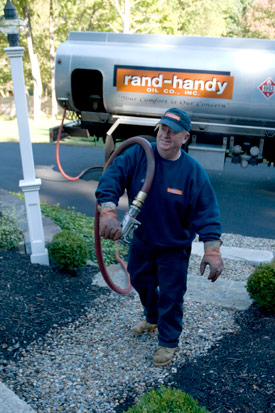 How do you know when my oil tank is full when making a delivery?
On the outside of your house you have 2 pipes connecting to the oil tank in your basement. One is the fill pipe, and the other is the vent pipe. As oil is added through the fill pipe, the air from your tank passes out through the vent pipe. Inside your tank and connected to the vent pipe is an audible alarm. As air passes through this alarm, it creates a whistling noise that the driver can hear outside the house. (You may have heard this whistle if you have been home during a delivery) When the oil level inside your tank reaches this whistle, the whistle stops. This tells the driver that the tank is full. The driver then turns off the nozzle and stops the flow of oil into your tank. This is why you do not need to be home to receive your deliveries.
With the cost of oil as high as it is today, is there a way I can budget my fuel expenses?
Yes. Most of our customers choose to pay for their oil this way. We offer a convenient, 11 month payment plan for your oil usage. Based on past usage and the current price of heating oil, we estimate your annual costs and split them up into 11 equal payments. Paying for your oil this way allows you to budget your costs over the year, and not be hit with high bills just in the winter months. We do still have customers who choose to pay for their oil when they receive it. This is regular 30 day billing with an early payment discount if paid within 10 days of delivery.
Can I pay my bills with a credit card?
Yes. We have credit cards on file for many customers who wish to have their monthly payments automatically deducted. Please call our office for more details. (We currently accept VISA, M/C, Discover)
Why should I enroll in your Comprehensive Comfort Plan for servicing my heating system?
You do not need to have a service agreement with us for us to service your system. However, the cost of the plan is well worth it when you consider what is covered. The Annual Tune-up is included, as well as most of the parts and labor that makes the system run. Think of it as insurance. If you need it, it could end up saving you hundreds of dollars or more.
What does the Comprehensive Comfort Plan cover?
The service plan includes an annual tune-up and efficiency check of your heating system. It also covers most of the parts /controls that make your system run properly. Labor to repair or replace those parts is also included in the plan. There are also parts of your oil storage tank that are covered under the Comprehensive Comfort Plan. If you would like to see a copy of this plan, you can view it on this website, or call the office and we will mail one to you.
What should I do if I plan to go away this winter?
There are a number of safety steps you can take to keep your house safe while you are away. Start by having a trusted neighbor or friend check on your house periodically. (Daily in cold weather) You can turn down your thermostat to save energy, but it is not recommended to go below 55 degrees. Call and let our office know so we can make a note of it. You can give us the name of a person to contact in the area, as well as a number where you will be, in case of an emergency. Many of our customers also have a type of Freeze Alarm they install. This is inexpensive and easy to do. You can call our office for more information.
Do you install new heating systems?
Yes. We have been installing various types of oil heating systems in new homes for a number of years. Depending on what you are interested in, we can design and install a system for you. Any type of work related to heating your home, we can do. We also install Central Air Conditioning for new and existing homes. Call our office for details and a free estimate.
Should I have my air conditioning system checked regularly?
Yes. We recommend an annual tune-up and inspection of the system. A properly maintained system is crucial in getting the most efficiency out of your equipment. Please call our office for details and to schedule an appointment.